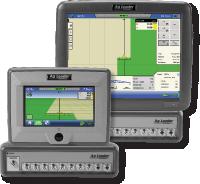 The Ultimate Solution for  Anhydrous, Liquid and Granular Application Control and Display.
The Ag Leader® DirectCommand™ system allows applicators to control application rates directly from the EDGE, Insight, VERSA and INTEGRA displays, eliminating the need for a separate in-cab application controller, reducing cab clutter and more tightly integrating technology from field to office. DirectCommand enables complete control of all your application activities – anhydrous, liquid, and granular, using one display. Manage variable rate and even multiple product application, and control application by individual boom section. The display monitor can be easily switched from your anhydrous rig to your spreader and then your sprayer. The same display unit records all of your field application activities so you can easily access application reports, and even share reports in pdf format.
DirectCommand gives you direct control over individual boom sections and application rate by connecting directly to supported brands of flow meters and valves. The DirectCommand system gives you control over both liquid and granular application – including anhydrous applicators, spreaders, air carts and sprayers, while simultaneously logging data and providing application mapping capabilities – all from one integrated display monitor.
Supported Anhydrous Heat Exchangers:
Raven two-valve system
Raven one-valve system
Dickey-john system
The Benefits of AutoSwath™
AutoSwath automatic boom control allows the display monitor to automatically shut off individual boom sections as the sprayer enters into and out of already applied areas, which is especially useful around point rows, waterways and field borders where over-application is most likely to occur. AutoSwath control also works on applicators that do not have booms such as spreaders and air carts.
Lower input waste and cost
Reduces crop damage from over application
Reduces skips due to forgetting to turn boom section back on
Less operator fatigue
Operator can monitor other functions
Improves overall accuracy
Improves environmental stewardship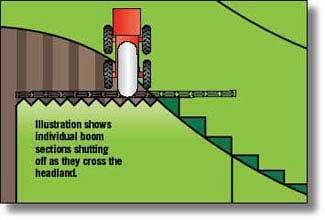 Rate Control: The DirectCommand system matches the real-time prescribed application rate to the target application rate by reading the flow meter and instantly adjusting the control valve. Simultaneously, it reads ground speed from a radar gun or 1 to 10 Hz GPS receiver and adjusts the valve accordingly. The system can also read and display optional pressure sensors, eliminating the need to monitor pressure gauges located outside the cab.
Manual Boom Section Control: The DirectCommand system connects and controls up to ten boom valves independently. A simple switch box allows an operator to switch on or off individual boom sections. This is especially useful around point rows, waterways and field borders. The system supports both motorized and solenoid type boom valves. An auxiliary input module is also available for connecting built-in boom and master switches in self-propelled sprayers or other vehicles.
AutoSwath Boom Control: An alternative to manual boom control, DirectCommand's exclusive AutoSwath™boom control automatically turns on/off individual boom sections based on your field map. AutoSwath eliminates the need for manually switching boom sections on/off – and the possibility of forgetting about a boom section that is turned off. AutoSwath's precision boom control won't turn off until all areas under the boom are applied. An on screen coverage map showing application skips and overlaps verifies that the system is providing complete coverage without wasting inputs.
AutoSwath and Inside/Outside Boundaries: The AutoSwath feature allows you to map multiple outside and inside boundaries in each field. That means you can mark field borders, headlands, waterways, creeks, ponds, terraces and other areas within the field, allowing the display monitor to automatically turn off/on boom sections as you pass over these areas. The system will also calculate the area for each of these boundaries and automatically subtract them from total field acres.
Easy, Useful Application Reports
Using the Insight VERSA and INTEGRA displays (not the EDGE) Direct Command's Smart Report is easy to print. Enter the temperature, wind speed, EPA number and soil condition (temp and moisture) and the display automatically creates a report as a pdf file on the memory card – including a map with legend, total volume/area applied and all of your user data. The application reports can be used for government-required record keeping, or if you're a custom applicator, you can supply it to your customer with your invoice.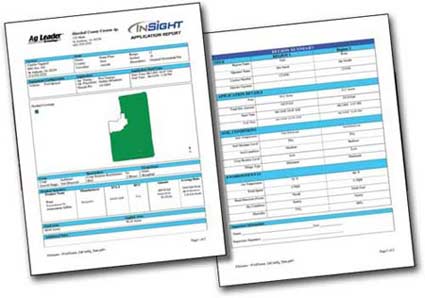 PLEASE CALL US AT 620-585-6761 For ordering information