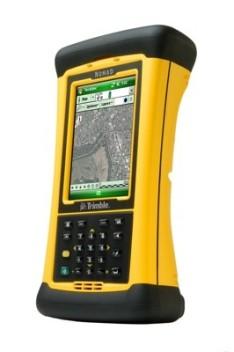 Nomad® Accessory Details:
Nomad Serial Boot
(P/N AG EGL-Z1005)        $50.00
The Serial Boot features an RS-232 9-pin Serial port and a power port for charging the Nomad
as well as a USB connection for synchronizing and connecting to a PC.
Stylus Pen (Nomad & Yuma)
(P/N AG EGL-Z2013)        $20.00
This rugged steel stylus has a special spring-loaded plastic tip designed to minimize scratches to the touchscreen while the reverse end of the pen has a Phillips screwdriver tip for attaching or removing the batteries from the back of the Nomad as well as the caps and boots. There is also a hole that allows you to attach the stylus to a lanyard so it won't get lost.
Nomad Rechargeable Li-Ion Battery Module
(P/N AG EGL-Z1006)        $95.00
Replacement battery for those long days in the field when you can't easily recharge.  Having an additional battery module can ensure your work gets done with no time lost waiting for your handheld to recharge.
Nomad RAM Vehicle Mount
(P/N AG EGL-Z2028)        $47.00
This heavy duty cradle secures your Nomad handheld securely right where you need it. While providing a secure hold, the mount still gives you full access to the screen, keypad and all ports and plug-ins.
Nomad Hand Strap
(P/N AG EGL-Z1007)        $12.00
Strap fastens to the back of the Nomad enabling you to keep a firm grip on your handheld computer.  This is a standard accessory included with the Nomad, but it can wear out with normal use.
Nomad Handheld AC Charger
(P/N AG ST1-Z2001)         $59.00
Charge your Nomad wherever AC power is available.
Multiple plug adapters are included for North America and international use.
Nomad Handheld 12V Vehicle Charger
(P/N AG ST1-Z2003)        $149.00
Use this Vehicle Charger to recharge your Nomad handheld off vehicle power. Recharge in your truck or plug into your ATV while you work and you'll be able to get your work done without low battery interruptions to slow you down. Adapter is compatible with standard 12 volt vehicle power sockets.
3.5″ Clear Touch Screen Protector, 2 pack
(P/N AG 70956-00)            $8.00
Pack of two (2) screen protectors are designed to be ultra clear and prevent damage to your Nomad screen.
Nomad Accessory Kit    (P/N 87584-00)       $230.00
Kit Includes:
12 V vehicle charger
Vehicle mount (RAM Mount)
9 PIN data cable – DB9 (Female) to DB9 (Female), null modem