Guidance, Steering and Operation Control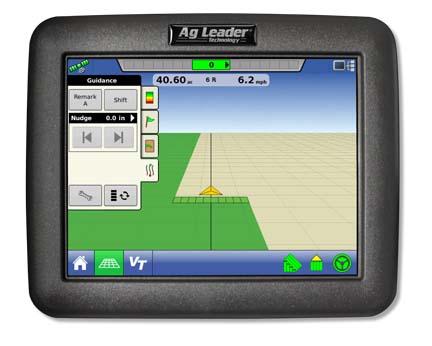 VERSA Display kit includes monitor only, cables sold separately (cables kits cost between $200-$320, call to price your cable kit today)
Ag Leader's  VERSA™ is a simple-to-use, affordable display that incorporates all of Ag Leader's most demanded precision tools:  guidance, auto-steering control, yield monitoring and mapping as well as SeedCommand planting control and DirectCommand application control.  The VERSA Display is built on Ag Leader's INTEGRA Display architecture, making it an ideal choice for a farmer just jumping into precision farming or a great additional display for precision farming veterans needing to expand their technology.
Multiple map views allows the operator to determine the level of detail needed to monitor applications. Implement specific tabs can be minimized to view more mapping information.  The display also features four video camera inputs, providing operators a good view of equipment operation.  The VERSA display is easy to move from vehicle to vehicle.
Full-color 8.4-inch touchscreen
Control and record field data – planting with SeedCommand, applications with DirectCommand and yield data
Automated steering – setup is simple with OnTrac2+ or the ParaDyme steering systems
AutoSwath – automatically turns on your planter or applicator sections using field maps
Data logging and mapping – allows you to see real-time field data in a chart or map form
Variable Rate control – use variable rates from planting or application prescription maps to minimize waste of seed, fertilizer and chemicals
Boom height control – used with NORAC Boom Height Control reduces spray drift and product waste
The VERSA display has in integrated on-screen guidance lightbar and supports mutiple guidance patterns
and you can see the field ahead in various views.  Paired with the OnTrac2+ assisted steering, you'll have a
high-end guidance/steering system.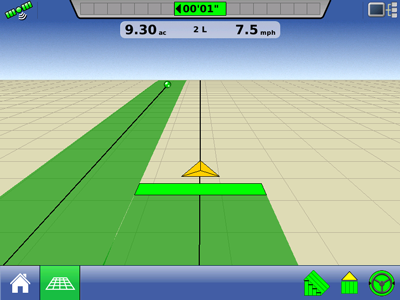 The VERSA can mark field borders, waterways, obstacles or tile lines.  The display can record your markers
so you can review your field information as well as the field data that was gathered from your field operations.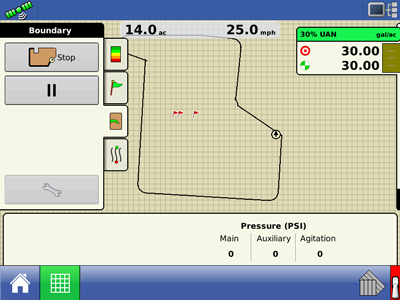 With the VERSA display, you can control applicaion of three different products (liquid or granular) at
the same time.  That means you save time in the field, minimize soil compaction, use less fuel and
have less wear & tear on your equipment.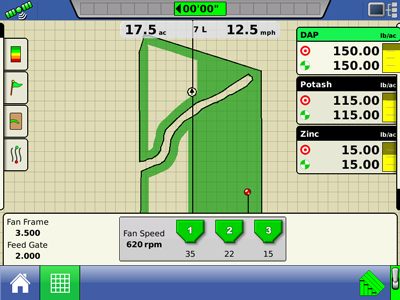 VERSA Capabilities
SeedCommand – Planter Control
DirectCommand – Application Control (liquid and granular)
Yield Monitor
Data/Coverage Logging
SMS software Compatibility
Related Products 
OnTrac2 Assisted Steering
GPS 1500 Smart Antenna
L160 External LIGHTBAR
Get Firmware updates for the VERSA
Ag Leader's Display comparison:
SEEDCOMMAND FEATURES
INTEGRA
VERSA
AutoSwath
x
x
Hybrid/Variety Logging
x
x
Multiple Product Control
x
x
Variable Rate Planting
x
x
PWM, Servo Hydraulic Control Valves
x
x
Rawson AccuRate Direct Drive
x
x
Split-Planter Logging
x
x
Planter Population Monitoring
x
Combination of SeedCommand and DirectCommand
x
x
Guidance
x
x
Autosteer
x
x
Advanced Seed Monitoring
x
DIRECTCOMMAND FEATURES
INTEGRA
VERSA
AutoSwath
x
x
Coverage Mapping
x
x
Data Logging
x
x
Single Product Application (Liquid or Granular)
x
x
Multiple Product Application (Liquid or Granular)
x
x
Variable Rate Control
Up to 5
Up to 3
Closed Loop Spinner Speed Control
x
x
Mark Drive
x
x
Smart Report
x
Strip-Till
x
x
Chemical Injection
x
x
Boom Height Control
x
x
External Switchbox
x
x
OEM Switch Input Support
x
x
Guidance
x
x
Autosteer
x
x
Multiple Product Application (Liquid or Granular)
x
x
Variable Rate Control
x
x
Chemical Injection
x
x
OptRx Crop Sensors
x
HARVEST FEATURES
INTEGRA
VERSA
AutoSwath
x
x
Grain Harvest
x
x
Hybrid Background Map
x
Harvest Variety Tracking
x
Guidance
x
x
Autosteer
x
x
Load variety map from SMS
x