Desktop Software for Livestock Management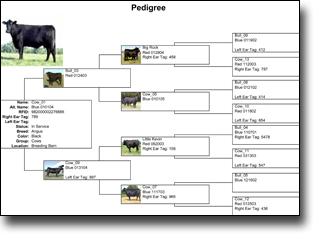 Stock Herd Management software affordably priced. Stock features a handy calendar with automatic event scheduling, and hassle free blood-line reports plus more. There is something for every livestock operation. Use Farm Works 
Accounting 
(formerly Farm Works Funds)
 along with Stock to add accounting and group enterprising capabilities to your operation.
Lorra's Note:
  For keeping individual stock records without accounting, Stock all by its self is a great software choice. However, if you want enterprise costing, you need to combine Stock with the 
Accounting 
program
(formerly Farm Works Funds)
.  (The Accounting software for livestock financial records works best for groups,and a few individual animals).
Farm Stock Features
30 days of support from Farm Works Corp main office included with software purchase

Enter unlimited number of animal types, such as cattle, swine, dairy, elk, horses, sheep, goats, lamas, and more. Each animal type will stay completely separate from one another for accurate record-keeping.
Maintain complete and detailed records and histories on livestock by individual or group of animals.
Using Stock is as easy as filling in a notebook. Switching between features (such as Mating, Birth, Feed, etc…) is as easy as flipping between tabs in your notebook.
Track animals by group and/or location.
Track weight records by date. .
Complete genealogy area allows you to easily maintain records of blood lines for breeding purposes.
Print a family tree by selecting the desired animal, then displaying its parents and/or offspring, continuing as far up or down the tree as desired. Unlimited number of generations can be viewed.
Keep detailed histories for groups and individual animals.
Calendar area automatically schedules future events such as vaccinations, testing and breeding dates. These events can be set to trigger more than one event. For example, a service can be set to trigger a pregnancy check as well as due date on a different date.
By-product area allows you to keep detailed records on milkings, wool, eggs, etc. This area includes the ability to enter weights, grades and other information as often as desired. By-product information is then kept on an animal by animal basis.
Set up User Defined Fields to keep track of additional information that is of specific importance to you.
Full set of reports include valuable information such as weaning weights. These reports can be printed for all animals related to a specific animal or for animals of a desired weight, age, sex, breed, etc.
Design your own reports, so you can select and print any information that you have entered.
All reports can be exported in a number of useful formats including Word, Excel, PDF, and Text.
Generic Import feature enables adding or updating a large number of animals in a few easy steps. Import livestock records that were collected in another livestock program, a spreadsheet application, or a database. This can also be used to update the information on animals (such as importing EPD information)
Import weights from text files or electric scales with data loggers.
Assign up to five identifiers for each animal: Animal ID, Alternate ID, Left Ear Tag, Right Ear Tag and Electonic ID. Easily switch between viewing by different IDs at any time.
Search for animal records by all or part of an animal's ID.
Track as much or little information as needed for your particular livestock operation.
Add Stock Mobile for record-keeping in the pasture, the barn, or anywhere on the go.
Add Farm Works Accounting to track expenses related to the herd and herd products such as milk, wool or eggs.
Click here for Farm Works Office Software Requirements
Downloads:
Program download
 for the Stock program as well as other Farm Works office software solutions.
Please have your version 2012 software product codes ready for installing.  The file size is 123MB and a high speed Internet
connection is recommended for downloading and installing the program.  If your connection is too slow for downloading, please
call us to order a software CD.  (CD shipping and handling is $10)
Support: