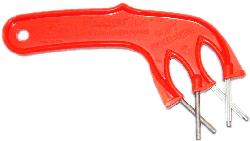 Nobody likes a dull blade and cutting with one can be dangerous!  We've been using this excellent
little sharpener made by Edgemaker Pro for years, and recommend it to all our friends and family.
We've tried other sharpeners but nothing works as well and as fast as this little gem. It only makes
sense that we should offer it to our customers as well. It's a great addition to any kitchen, shop, or
hunting kit. The Edgemaker Pro has grooved sharpening steels and finer honing steels. This provides
two-step sharpening for a keen edge. It sharpens knives of all sorts, including serrated knives and
electic knives. It will also sharpen circular blades used on meat or cheese slicers.  And it works
great on scissors!