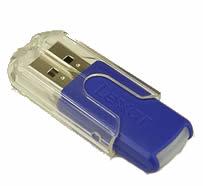 These handy little jump drives are difficult to find and Martens Farms has them!
The Lexar 1G Firefly jump drive is used to update Trimble's EZ-Guide 250 and EZ Guide 500 systems firmware.
And we provide the FireFly complete with drivers and updates pre-installed.  So all you have to do is plug it in and update.